Newborn Sleep:

Co-sleeping 


Newborn sleep concerns are something that may keep you awake - and your spouse too! You never thought you would have so many questions and opinions regarding your little munchkin's sleep pattern and routine - but you have them now. Co-sleeping (i.e. sleeping with your baby) is one such topic.

So, your spouse would like the baby sleeping safely and separately in the cot/ crib, but you insist on sandwiching your little bird in the middle - making it cuddly and cozy. What to do now? You have a 50-50 tie here and this article will serve as the tie breaker! Weigh the pros and cons of co-sleeping and you will have a clear winner. How does that sound? : )

Even if you have already made up your mind, we would recommend you to have a glance at the following negatives and positives - they may change or reaffirm your decision.

Advantages of co-sleeping: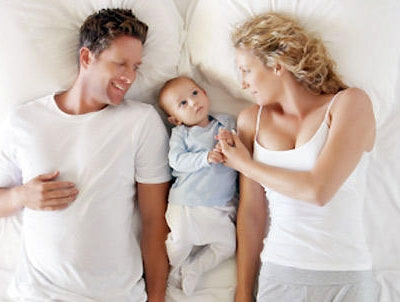 Disadvantages of co-sleeping:
It might not be easy at first for you or your partner to share a bed with a wriggly and squeaky sleeping newborn who will most probably start kicking you in a couple of months.

Studies show that co-sleeping could increase the risk of cot deaths or SIDS in parents who use drugs or smoke, or take alcohol, as these parents might not be aware of the presence of the delicate little baby during their sleep.
Co-sleeping may affect your love life as having a baby sleeping between you two isn't too romantic, is it? ; )

If you have specially created your baby's nursery, you can place the crib/ cot in your room at night time, and this way you can be with your sleeping baby without having to share the bed. This is something that doctors and experts on SIDS recommend to ensure a sound newborn sleep at night.
For first-time parents, newborn sleep may seem like a difficult thing to master. Whether co-sleeping is going to help you out or not is a matter of personal preference. Hopefully, by reading the pros and cons of newborn sleep, you can make the right decision for your baby, your spouse, and yourself. All I can say now is: Sleep well! :-)