Newborn Checklist

When will you make your newborn checklist? The newborn baby checklist helps you keep track of the things you need to buy before you run to the labor room. 
Shopping for a newborn can be very exciting, especially if you are a first-time parent, and more so if you are a shopaholic mom. You may want to buy the entire world for your new arrival. But you also need to be realistic, prudent and frugal enough to realize that newborn baby items, specially the clothes and shoes, would only last for a couple of months till the newborn outgrows them to one size bigger.
Compiling the newborn baby checklist:

The size of a full-term newborn baby is known as size zero.

You may feel that some of the items in the following newborn checklist are not suitable for you. This list is made to provide maximum help to you, but you need to use your own judgement to decide about the final purchase.
For example, it's very obvious that a newborn baby car seat, if you do not have a car, will not make sense. Similarly, if you already have some hand-me-down newborn baby clothes, you may want to cut down some of the items on the new baby checklist.

The following newborn checklist has been divided into categories to make it easy for you to understand. Print this newborn list before going out for shopping, take it with you, highlight the items you need to buy and cross these items as you purchase them. This will make your life a lot easier.

Items for your newborn's room:
Cot/ Crib with mattress

Changing table or changing mat

Dresser or chest of drawers for storage

Fitted sheet (at least 4)

Baby blanket

Night bulb

Baby monitor

Nasal aspirator or saline drops

Dirty-diaper bin

For Traveling:

Items required when you go out with your baby:
Pram/ Stroller

Carry cot

Car seat

Baby Bag

The baby bag will carry an extra pair of clothes, diapers, baby lotion, wipes, a small toy, plastic bag to throw dirty diaper, baby bibs and powdered formula milk along with a sterilized baby bottle (provided your infant takes formula milk).

Newborn Clothes:
7 vests or bodysuits

7 sleep-suits

3 socks or booties

2 baby hats or bonnets (to keep the tiny head warm)

1 sweater (At least one. You can increase the number if your infant is a winter-baby)

5 pieces of soft muslin cloth or baby bibs (for wiping your baby's delicate skin)
It is a good idea to get some organic infant clothing for your baby. Remember, when it comes to 'style versus comfort', comfort is always the clear winner.

If you plan to breastfeed:
Breastfeeding may require some accessories for your convenience. Please refer to our article on Breastfeeding Accessories for a complete list.
2-3 nursing bras

Breastfeeding Pillow

Breast pump (manual or electric) and feeding bottles – if you plan to express your breast milk

7-8 breast pads
For all sorts of help on Breastfeeding, please refer to our Breastfeeding section.

If you plan to bottle-feed:
Bottle feeding requires some extra equipment. Please refer to our article on Newborn Feeding for a list of these accessories.

3-4 feeding bottles

Bottle sterilizer (machine or liquid). You can also boil the bottles instead.

Formula milk
For detailed help on Bottle feeding (also known as Formula-feeding), please refer to our Newborn Formula Feeding section.
Diapers and associated stuff:
Bath accessories: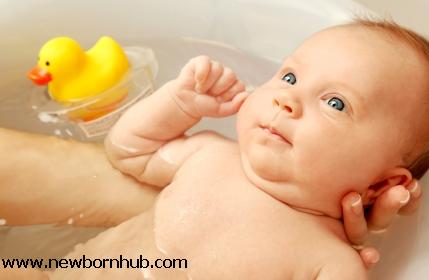 Baby bath stand (fabric or plastic)

Baby oil

Baby shampoo

Soft sponge

2 baby towels

Need help in giving your tiny little munchkin his bath? Learn how to give an easy baby bath in simple steps here. But remember, you will be giving your newborn a sponge bath till his umbilical cord sheds off.

Make sure you buy all the needed baby stuff, but do not buy in excess. Newborns tend to grow and develop at a faster pace and a lot of clothes that once used to fit them well, may soon look tight on them.
Finishing up your newborn shopping in advance and preparing a baby bag to take it to hospital (if required) will be a good idea. You never know when the water is going to break, and the last thing you want would be to run to the shops with a newborn.

Don't forget to customize this newborn checklist according to your needs and preferences. And who doesn't love shopping? Enjoy!

---
Related topics:
Pregnancy, Gender Reveal and Birth Announcement IDEAS
Things to Consider while Naming your Baby

Newborn Baby Care
Return from Newborn Checklist to Homepage.