Newborn Blog
The Newborn Blog is my mini-journal about anything and everything you may want to know about newborn babies. It ...
-- keeps track of all the new pages that I upload on newbornHub.com
-- lets you know about any changes or updates I make to any newbornHub page
-- shares with you the wonders of being a mum (or a dad). After being a parent, doesn't life start all over again? :)
-- lets you know about the upcoming events, competitions and online polls...and yes, I announce the lucky winners right here.
-- lets me share things that I cannot or should not on a website (do I sense curiosity?;))
So what are you waiting for? Let's start!
Apr 09, 2021
Disadvantages of Formula Feeding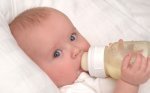 To get an idea about some challenges faced by formula feeding moms, keep in mind theses disadvantages of formula feeding: