19 Unique Baby Shower Ideas

Planning the perfect baby shower and coming up with unique baby shower ideas can be truly challenging experiences. This will undoubtedly require careful planning and robust management to ensure that all goes to plan, meeting, or exceeding everyone's expectations. After all, a baby shower is meant to be a party for the mom-to-be, and she should have a good time!

If you are tired of the clichéd baby shower ideas and parties and cannot get your creative juices flowing with new thoughts or options, then do not despair!

This guide aims to enlighten you with some amazing baby shower ideas and inspirations can be enjoyed by the mommy-to-be and her friends and family. As a general rule, just keep in mind the stage of the mom's pregnancy and her safety and comfort, at all times. 

Below you will find 19 unique baby shower ideas that are guaranteed to make your celebration unforgettable and fun-filled. 

1. Mix It Up - Welcome All Genders

We have invariably seen the baby showers as a 'ladies only' event. You can make it more exciting and happening by inviting the dad's side of the family or friends too!

If your budget permits and the expecting parents are happy with the co-ed decision, then you need to consider making some adjustments to accommodate both the sexes. For example:
Baby shower decoration will need to be neutralized to accord with a co-ed event. 
The variety of baby shower food will need to be expanded to cater for all ages and sexes.
If you plan to keep alcohol, then consider serving both, liquor as well as beer (and always ensure that mom-to-be is served non-alcoholic drinks only).
Diversify the types of games and introduce some that are partner-specific.
2. Outdoors 

If the weather is stable and suitable for the mommy-to-be, then you can consider hosting it outdoors. That can be a backyard, a beach, a park, or a rented space of your choice. If it is summers, then nothing beats this choice.

The first thing that comes to mind when you consider an outdoor event is grilled food and fun activities such as Frisbee, small team soccer, water-balloon toss, sack races, etc. 

If barbecue is not your preference then you can always cater to the party and set up tents for relaxation and socialization. A BBQ event is casual as compared to a catered event that is more sophisticated and structured. The choice is yours!
3. Couples Buffet
Who would not like a baby shower invitation to a buffet? If you do not have the resources to throw a well-organized and lavish baby shower, then perhaps, your best bet is to keep it simple, yet effective. 
You get to decide the time of the meal – brunch, lunch, hi-tea, or dinner. You can even request a customized buffet at certain locations that can serve your choice of baby shower food. All you need to do is ring people up and make inquiries!

The best part about a buffet is that you do not need to worry about preparing and serving food for a group of people. Even the decorations can be arranged at a restaurant or a private catering party area. They may or may not charge you for it, and in certain cases, they would expect you to bring your decorative items, to suit your taste, colors, style, and event.

4. Just-For-Mom Shower
This is a practical suggestion for moms who have had babies (and baby showers) before. If it is her 2nd, 3rd, or 4th baby, chances are, she will already have a lot of baby items already – in which instance, repetitive items for the new baby are not required! What she needs, are specific items for her personal use and those related to her pregnancy.

A thoughtful friend or family member would, in this case, rather arrange a just-for-mom shower, with gifts primarily for the mommy and the baby instead.

This can be a well-deserved and pragmatic option, as the mom has had so many pregnancies, and is already going through another one along with parenting little kids. She would certainly have needs and wants that will ease the pregnancy and delivery process for her.

Whoever is planning a mom-only shower needs to explain the guests about the gifts that the mom would need and then ensuring there is no doubling-up of the same gifts among the guests.
Some thoughtful and caring baby shower ideas that can both be practical and pampering would include:
Maternity / Cozy clothing
Soothing balm/nursing comfort ointment
Stretch marks cream or lotion
Body firming gel (generally free from paraben & hypoallergenic)
Compression socks for pregnancy
Gift vouchers or cards for home-cleaning services
Perfumed candles
Favorite book(s)
Restaurant gift cards for the couple so they can enjoy a date night pre-delivery
Home-cooked & frozen meals for the mom to enjoy post-birth without worrying about cooking for a while
A recipe book that contains easy home-made baby and mom food recipes.
5. Pampering the Mommy-To-Be
As part of the baby shower, mom's friends can accompany her to a relaxing and soothing massage (say 2 hours) or a full-day pampering at a salon of mom's choice (including manicure, pedicure, and facial). Who doesn't enjoy a comprehensive beauty treatment, and the tired and stressed mom-to-be needs it more than anyone else! 
Once you finish at the salon, you can all collectively unwind and end the day with some mouth-watering dessert and perhaps, some shopping or gifts for the expecting mommy.
6. Themed Gifts
No baby shower is complete without gifts. When coming up with baby shower ideas for gifts, think about items that the mommy-to-be will need or require – both during pregnancy and after the birth.
There will be certain items that she will need in multiples or different varieties. Given this, why not come up with a theme for the gifts (as opposed to decorations and dresses) that every guest brings. Each guest can bring a gift that falls within that theme. Some of the baby shower ideas regarding themed gift items would include:
Bath Time Essentials Set
Big box of diapers
Cleansing Wipes (here's how you can make DIY wipes)
Foam Shampoo For Newbies 
Gentle Cleansing Gel
Body Firming Gel 
Books 
Toys
Clothes & Pajamas.
The idea is to be creative and thoughtful with the theme. At the same time, it needs to be relevant to the expecting mommy and the baby arriving. Alternatively, you can also assign a few people to one theme so they can co-ordinate amongst themselves and decide who gets what.

7. Tea Party
A tea-party or hi-tea is also one of the hit baby shower ideas for all types of gatherings. The baby shower invitation needs to be specific on the tea party schedule and the appropriate attire for the evening.
Some of the highlights of a tea party would include the beautiful china (if you have it) and any other pretty looking tea sets or crockery that goes with it. Your baby shower food ideas for a tea party should certainly include sandwiches, bite-sized desserts, and some assorted savory nibbles and canapés.
Baby shower cakes are also a good match with tea parties. You can either bake one or get it ordered from a bakery – customized to the design, taste, and liking of the mom-to-be.
If it sounds too much of work or if you do not have the required crockery and serving items, then you can always consider getting it catered. This will ensure that no one is stressed with preparation or arrangements, and all they need to do is doll up and show up to enjoy the event with the expecting mom.
8. Arts & Crafts
Baby shower games and activities do not have to be typical. Why not introduce some arts and crafts so that all age groups can participate and show off their creative skills on canvas or paper! This can be an interactive and engaging activity and at the end of it, you may get a decent piece of wall art that can be gifted to the expecting mom!
Alternatively, tie-dying (for adventurous guests) or fabric paints can also be used on plain white onesies that can also serve as a gift for the newborn.
Once all the paintings and crafts are done, the mom-to-be can then pick her top designs and the winners get prizes.
Some other baby shower ideas that involve crafts could be:
Painting baby hangers with bright & fun colors 
Creating headbands & bows for baby girl 
Decorating letters, characters & figures to hang in the baby's room.
9. Fun Games
Baby shower games are the lifeline of any exciting event. Here are a few interesting ideas that you can use or be inspired to create something of your own: 
Play a linking game where baby names need to be connected to their celebrity parents. 
Each guest to bring a baby photo and let other guests guess who it is.
One person asks a personal question from a group of people and they write their specific responses on a piece of paper and then someone guesses who answered what. 
Jot down baby qualities (e.g., eyes, intelligence, temperament, hair color, smile, social skills, etc.) and then note the parents-to-be responses individually to see who has what in their mind. The responses can be saved in a frame or diary for the baby to enjoy when he or she grows up!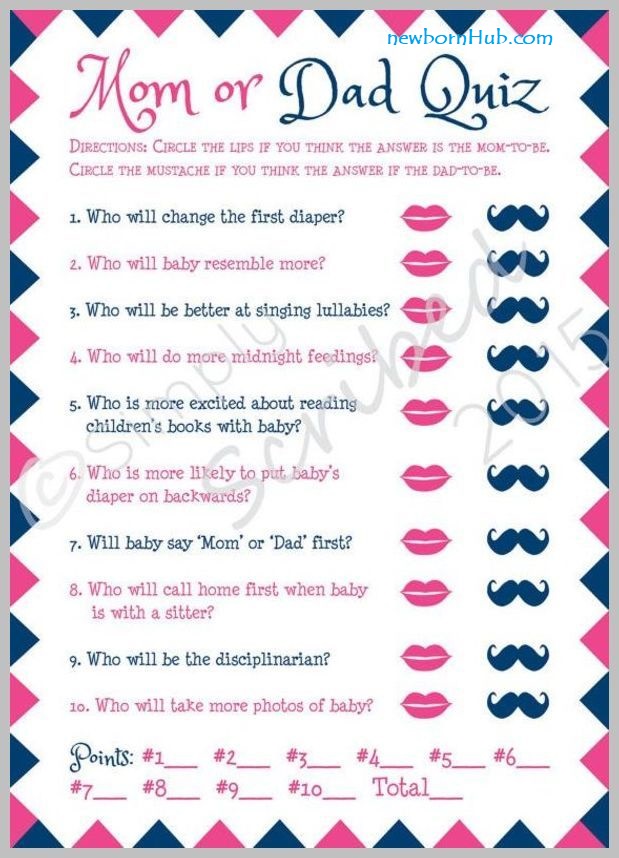 10. Ladies' Night Out
A baby shower is all about ensuring that expecting mommy relaxes and enjoys her time. A night out with your besties is one of the all time hit baby shower ideas. You can all dress up, perhaps following a theme, and head to the town for a fun-filled night. 
If this sounds too much to mommy-to-be, then she may want to consider hitting her favorite bar and have some fun dancing and drinking (non-alcoholic of course).
At a minimum, she can also be treated to a nice meal at a fancy or favorite restaurant of her choice. It doesn't matter where you guys end up, it is the company that counts and the fact that she enjoys her time with the people she loves and cares about.
11. Brunch Shower
If the mom-to-be is a chilled out and easy-going person who doesn't need a hoopla style baby shower, then you can consider hosting (or catering) a brunch at one of the friend's houses. 
Brunch is meant to be a relaxed and slow period between breakfast and lunch, and you can come up with a variety of baby shower food ideas to celebrate it. Some of the patent brunch items would include bite-sized omelets, casseroles, French toasts, muffins & cupcakes, biscuits, bagels with a deli or cream cheese, and fruit salad.
For drinks, you can consider juices as well as the traditional baby shower punch drinks or mocktails that are so commonly associated with any baby shower. Juice choices can be fairly standard such as apple, orange, and cranberry. With baby shower punch drinks, you can be innovative and try out different combinations based on many baby shower punch recipes shared on your or another friend's shower, or mix and match flavors to suit everyone's taste. Don't forget to arrange all the favorite flavors of expecting mom and always remember she cannot consume alcohol. You can set up a bar as well to serve drinks or where guests can help themselves. 

These creative baby shower punch recipes can then be written on note cards and shared amongst guests and mom-to-be as keepsakes in memory of the baby shower.

12. Kid-Friendly
If you are looking for some great baby shower ideas, why not involve siblings? Generally, we do not see kids (or older kids at least) featuring at a baby shower. This doesn't mean that you cannot 'incorporate' them into the mix of things. This can be a perfect time to involve the sibling(s) in welcoming their brother or sister into this world. 
The siblings will surely be excited but they will also be apprehensive about a new addition into their family. It is during these uncertain times for the kids that you can make them feel part of the family and the process. Read our article on how to introduce the newborn baby to siblings and avoiding siblings rivalry.
The siblings can also invite their close friends and make it a fun day out (or in) for all of them. When the baby shower has kids invited, you do not need to worry too much about the sophistication and detailing of decorations. All you need to focus on is making it festive and playful and serve some finger-licking food that everyone will enjoy.
One thing I strongly suggest you include when serving food is baby shower cakes. These can be bite-sized or slightly larger cupcakes or slices of assorted cakes. This is a much better choice than getting one big cake, as with assortment, you can be assured that everyone's choice and tastes are taken care of.
13. Words & Basket Of Wisdom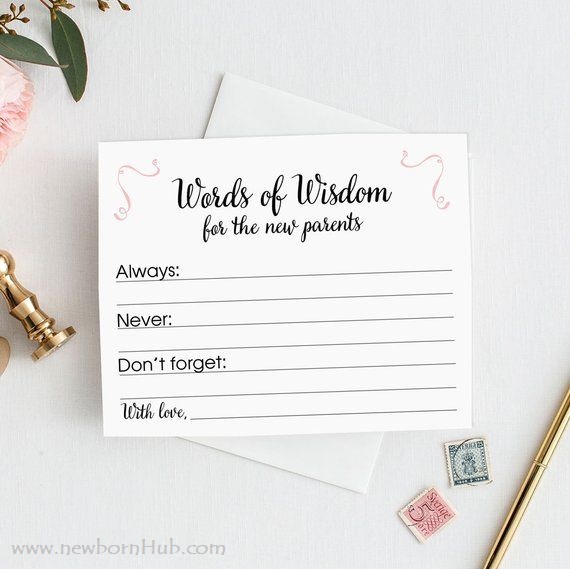 We all need encouragement at some point in our lives. For first time moms, this is required more often. Who else can give better advice to them than the moms who have 'been there done that'! This, in itself, is a priceless gift as part of a baby shower.

These words of wisdom can take any shape or form and you can certainly add this to your bucket list of baby shower ideas. Our 2 suggestions are:

Book of Wisdom — You can create a beautiful and well-bound notebook that is customized to include all the little details of the expecting mom. This book can then be passed amongst the guests during the baby shower, where each of them will note their thoughts and bits of advice for the expecting mom. She can open this when she is about to reach labor or even after delivery! This will retain the excitement for her.
Basket of Wisdom — Create a customized basket for mom-to-be and fill it with products that are specific to mom. These items are meant to signify the things that you have relied on during your pregnancy or before, and with the assistance of which you have become wiser, in the quest for motherhood. This basket can also have baby essentials too.
14. Baby Book vs Cards
Gone are the days when baby shower cards used to be popular and standard items. And let's face it; they are not kept safely for long! 
Instead of a card, you can request the guests to buy a good book (that suits the reading style of the expecting mom or baby books) and write a note for the mom-to-be welcoming the new baby! This slightly adds to the cost for everyone, but is one of the most personalized baby shower ideas - more meaningful than a card!
Please ensure that you specify on the baby shower invitation to bring a book instead of a card and to discuss amongst them to avoid overlapping of the gift. The book will be used for years to come, and it won't end up in the trash! 
15. Recorded Messages  
The expecting mom will certainly have friends and family who are not close by. One of the most memorable baby shower ideas is to include the loved ones that cannot make it to the party. They can send a baby book by mail and this can include a recorded story of that book in a nutshell, for the baby to listen to, for years to come. You can also include a personalized voice note for the expecting mom. This way, the baby will be able to associate to your voice, for many years, until you meet them in person!

16. Guests' Signatures
Guest notes or signatures are usually written in a guest book. Parents may store them away and not be able to see it frequently or often. These notes and signs can be written in other creative ways. For example:
On the first page of a baby book that you will read to the baby frequently
In a picture frame that can be placed on the entrance or in the baby's room
A decorative globe
Carved on a piece of wood so it can be used as a piece of decoration or wall hanging.
A nursery decoration piece or a plain cloth frame that has fingerprints and corresponding signatures from all the guests in attendance. 
It doesn't necessarily have to be guest signatures. You can also include personalized messages and well-wishes for the baby as well. This can be a delightful nursery decoration that the baby can cherish for times to come!
17. Diaper Thoughts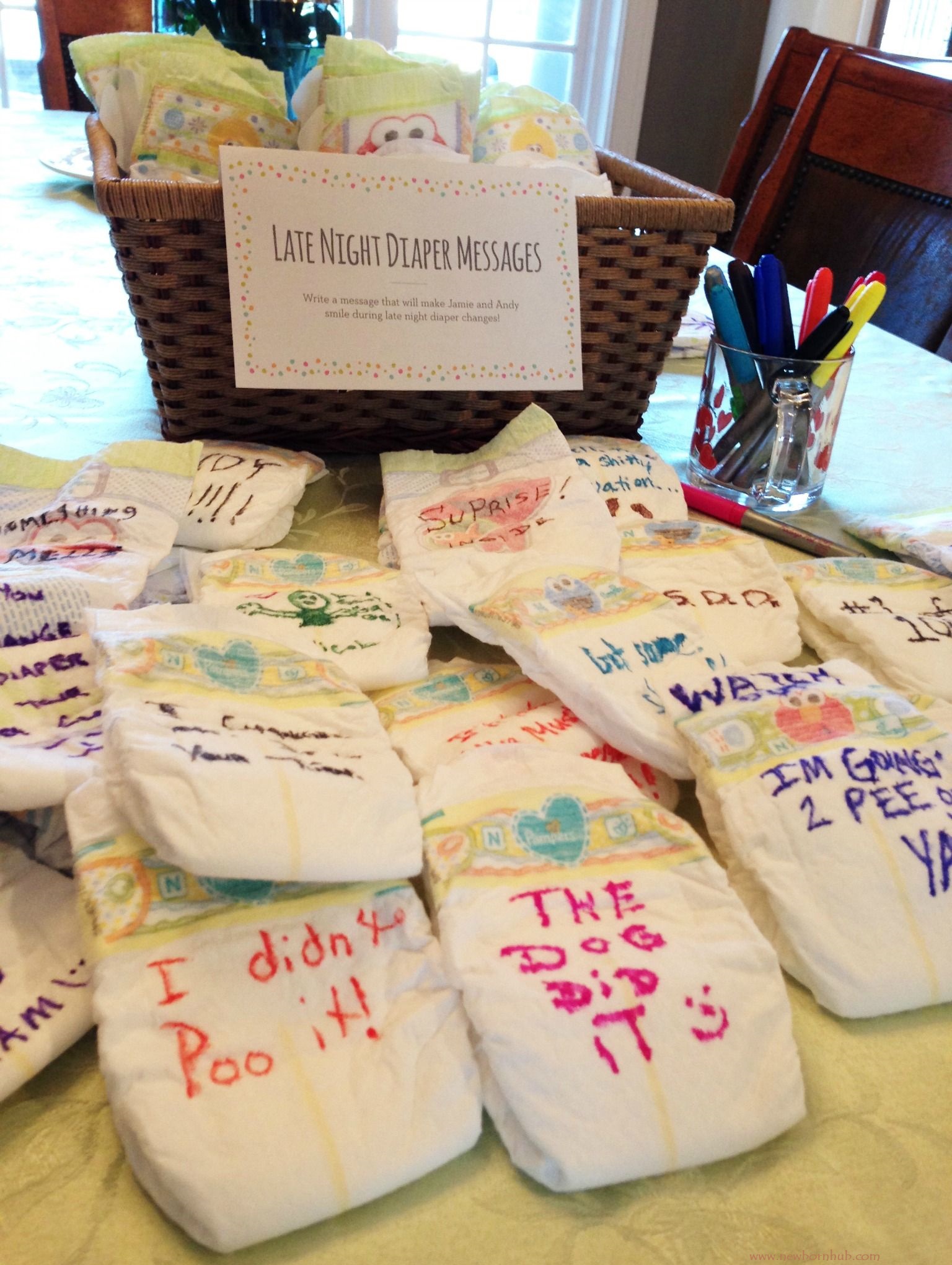 Who enjoys doing a nappy change? I can't think of any mom who does! But diaper changes can become fun and interesting – for both the parents!

One of the most fun baby shower ideas is to have a 'diaper thoughts' session. The guests will be provided with diapers (the ones that parents would like to use and not a random brand) and permanent markers. 

Now is the time to get creative with your baby shower ideas. You can come up with all sorts of messages, notes, and jokes for the parents. You can even think them through before coming to the baby shower (to save yourself time and come up with punchy and thoughtful writings). This is bound to make them smile and reflect at the baby shower and those in attendance!

18. Favors & Prizes 
A baby shower can have a perfect ending if you close it with a variety of thoughtful favors and prizes for all the guests as well! This will surely make everyone feel good about the event and a nice gesture overall.
Some of the baby shower ideas for return gifts include kitchen items, wellness products, scented candles, personal grooming stuff, or even personalized keepsakes that will link you and your attendance on a specific date, to the baby shower.
19. Baby Shower Clip Art
Once the baby shower is over, you can collect all the photos taken at the event (perhaps from different cameras) and make a baby shower clip art – either electronic or printed or both. It is an excellent idea for the mom-to-be, reflecting memories that she can cherish for life or use wherever she wants to.
No matter what baby shower ideas you are implementing, you can use some of our baby shower clip art (below) for decoration. Just print-out these baby shower cliparts and start decorating! You can get creative and customize them to make these baby shower clip art unique!

To Sum up the Baby Shower Ideas ...
Pregnancy can be exciting as well as stressful for the parents-to-be. The above baby shower ideas are meant to assist you with your planning and to inspire your thoughts to come up with more options. Every baby shower will have specific requirements and limitations, so choose what suits your situation best. 
At the end of the day, no matter what arrangement or options you choose, it is the intention behind the baby shower ideas that counts! It is all about showing your love and support for the mom-to-be and her newborn that is about to pop out. 
Baby shower ideas are meant to make expecting moms feel loved and cared for – that is what we hope this guide will achieve for all planners out there! 
Return from Baby Shower Ideas to Homepage.
Go to Creative Baby Gender Reveal & Pregnancy Announcements.
Read: Unique Ideas on Newborn Birth Announcements.