DIY Halloween Costumes for Babies

Are you looking for DIY Halloween costumes for babies? The fun thing about dressing up a baby at a Halloween or any costume party (or any random day!) is that infants have no say when it comes to selecting clothes. You can dress them up as anything you want and they won't mind - until they grow up and want to dress up as princesses or super-heroes only!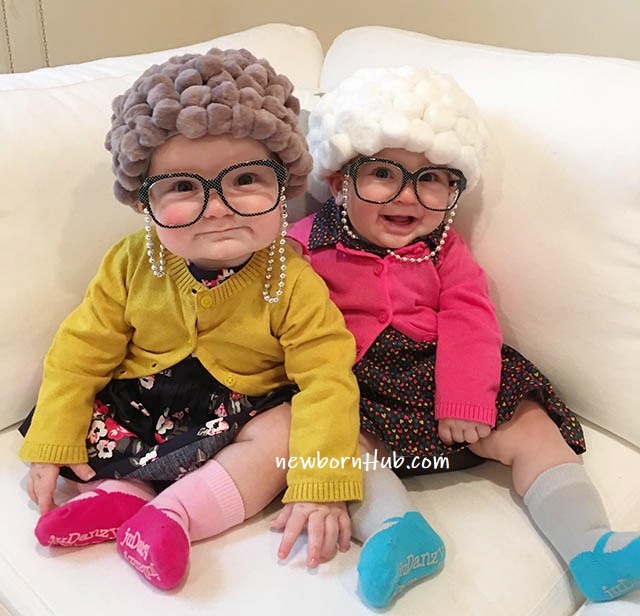 There is a reason why every costume party is flooded with Disney princesses and Spider-men toddlers - because that's they all want to be. No matter how hard you try to come up with creative Halloween costume ideas for kids, these stubborn little things just don't get it. Solution: experiment with your Halloween baby costumes when they are tiny. So let's do that...

Tiny Grandma
Who will not like babies dressed up as oldies?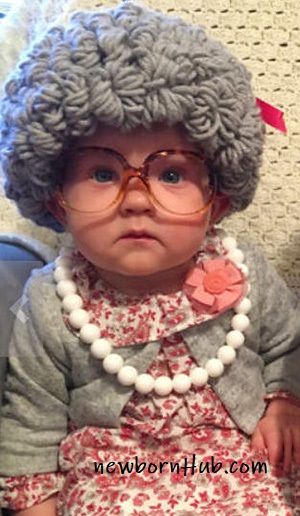 Take your baby's hat or beanie and stick pom-poms all over it. You can also use cotton-balls instead but I won't recommend it as your baby can take them off and put it in his/her mouth. You can also experiment with using wool.
Next step: Old glasses without any lens. If you have eyeglass strap/ string, bonus points for you! It will give a more genuine granny-effect. You can also buy some pearl necklaces from the dollar-store or use some old ones you no longer use, put a big pearl necklace around the neck (for the authentic grandma look) and use one as the eyeglass string.

Finish off the look with a bolero or a sweater on top of a nice floral frock. Make sure to button only at the collar. Match it with some socks or comfy sandals, and your super adorable grandma is ready.

You cannot find DIY Halloween costumes without less effort and money than this! And people won't stop complementing your little one. 
Avocado baby
Your Halloween baby cannot get any more cuter than with an avocado costume. It is unisex, easy to make and super adorable.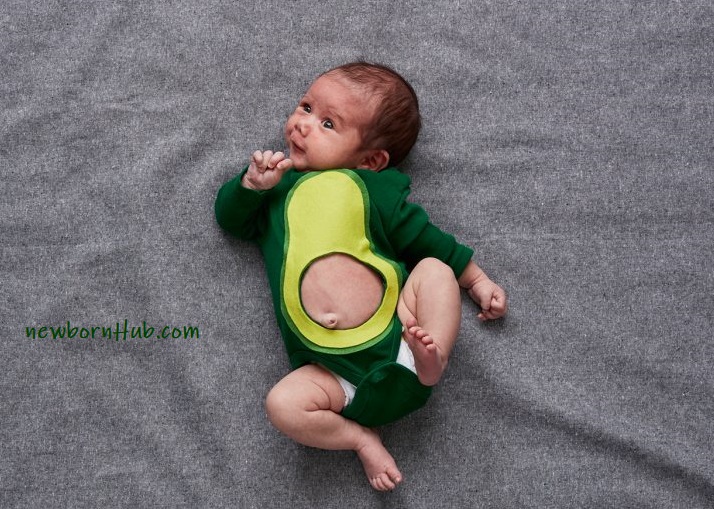 Buy a dark green onesie and roughly sketch an avocado on it using a pencil (or tailor's chalk).
Sew or paste a piece of yellow fabric as shown in the picture. Don't worry if the fabric has some loose ends. 
Sew or stick a green ribbon on the the sides. Don't forget to cut the whole for the seed to come out ;)

Baby Bat 
If you already believe your baby has the traits of a bat by fighting his sleep all night, why don't you give him the costume he deserves?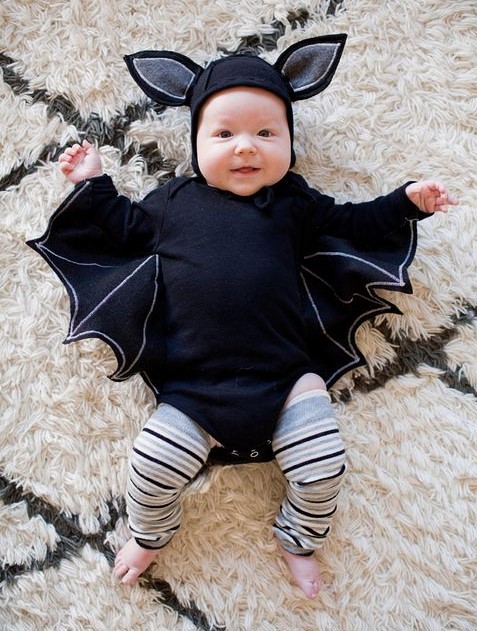 A black onesie, some felt or black fabric and and a piece of chalk to draw wings on the felt. That's all you need to make a baby Halloween costume people will remember for years to come! 
Baby Burrito, anyone?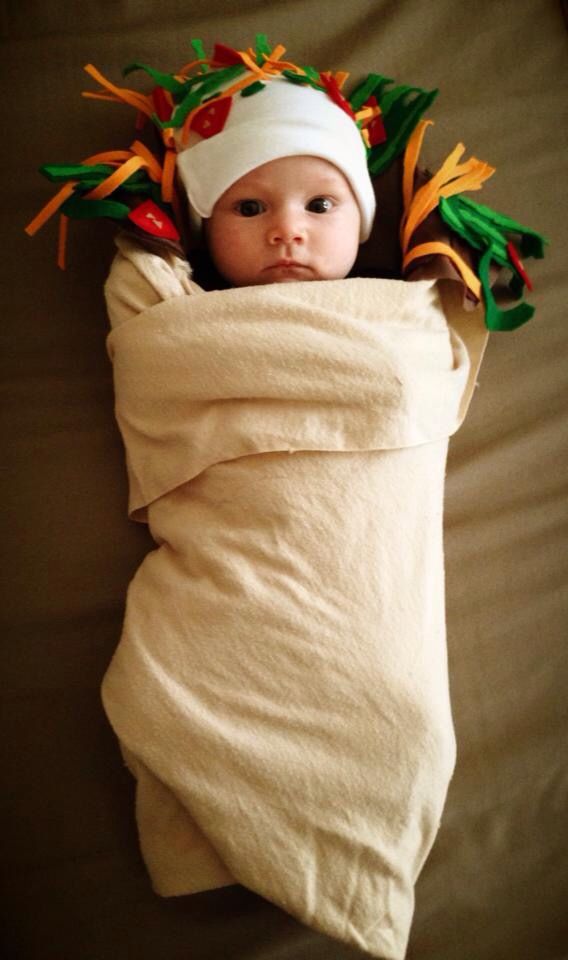 For newborns, food can be the best inspiration as a Halloween idea - primarily because like food, newborns don't roam around (ideally food should never move!).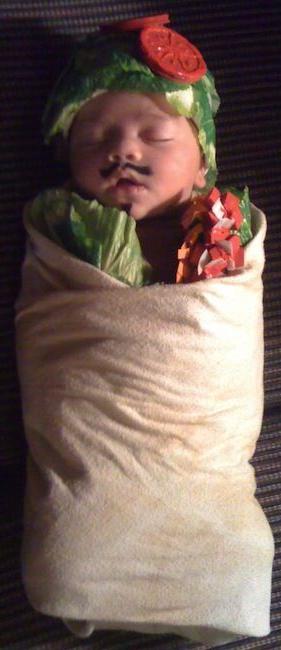 If your newborn baby girl or baby boy is just few months old, swaddle him using a beige cloth (to give it the impression of a burrito or a 

wrap

). 
On a baby hat (beanie), stick food toys like tomatoes, lettuce, etc., (that you may find in his sibling's toy-box); and your yummy baby-wrap is ready for his very first Halloween or Costume party!
P.S. A mustache would look cute if you want to make a newborn costume for a baby boy. 

Lion Costume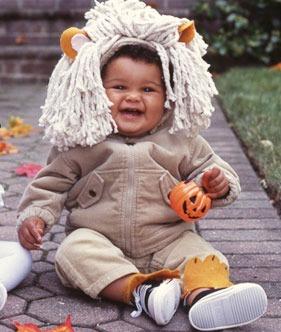 Take a beige hooded-jacket and a pair of trousers. Buy two mop-heads and stick them together on the hood. 
Use 2 orange felts to make small ears and also stick them on the hood. 
Orange or brown socks worn on the shoes would give a cub's foot effect. Your little lion is ready to roar in his impressive baby Halloween costume.
Need more ideas on DIY Halloween Costumes?
How about this Halloween baby?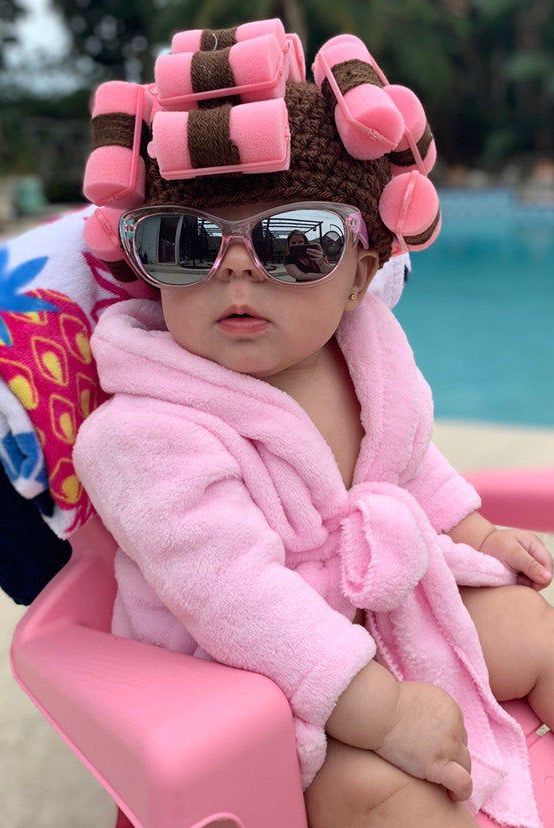 That's not it - we have an ENTIRE section of SUPER-EASY ideas of DIY Halloween Costumes for your kid that you can make at home.
DIY Baby Stuff - get creative!
Return to Homepage.