4 Ways To Sterilize Baby Bottle

Ever wondered how to sterilize a baby bottle, perfectly? It is no breaking news that the feeding bottles and dummies all need to be sterilized regularly (and properly). Many mothers who go for bottlefeeding prefer to wash these baby items with a warm soapy solution, and boil them once a week and that's about it. Though this technique may surprisingly work for some mothers living in a colder climate, it is never a recommended approach.

Go for any one of the following techniques to sterilize bottles, nipples, bottle caps, nipple rings and pacifiers:
1 - Boiling or Steam Sterilizing

Boiling kills away the bacteria and harmful microscopic organisms, and is the oldest of all techniques - you can call it a classic!

Wash all the baby bottle accessories with a mild soapy liquid and use a brush to make sure no newborn formula residue is stored in the corners.

Take a clean pot, fill it with water and let it boil.
Add all the bottle accessories in the boiling water and boil for 5-10 minutes.
Remove the pot from stove and take out the sterilized bottles and nipples and put them on a clean kitchen towel and let them dry.
Do not wipe with any kind of cloth or tissue-paper afterwards.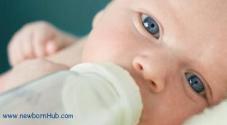 You can create a steam sterilizer the same way. When the water starts to boil, put a metallic rice/pasta drainer on it and put washed bottles on it and cover. Let the baby bottle steam for 5 minutes.

2 - Sterilizing Liquid or Tablets:
There was a time when we thought tablets could only cure us during ailment; now they are used to prevent our newborn babies against infinite microbes. Sterilizing tablets are easy to use.
Dissolve a tablet in 1-2 liters water (depending upon the size of the tablet – read the directions on the tablet before using it)
Sterilize (wash) the bottles along with their accessories using a bottle brush.

Normally, it is safe for you to reuse this liquid for 24 hours. Sterilizing liquids are used in the same manner. Wash the bottle, nipple rings, nipples, caps and dummies using a nice bottle cleaning brush and sterilizing liquid, and there you go! I have used sterilizing liquids for my baby daughter and they helped a lot, specially during travel.

If you frequently travel with your baby, keeping the sterilizing liquid bottle is something I would highly recommend. When my daughter Noya was bottle feeding, we went on a 20-days summer packed scorching trip, and sterilization was never a problem for me. The whole trip went smoothly.

3 - Sterilizing Machines:
Another option is to let the technology take care of this sterilization process. If you can afford to buy one, get a sterilizing machine that not only saves time, but is also very convenient to use. However, there is a teeny-weeny downside to it as it takes electricity to work which adds to the electricity bill. But then, these machines are specifically designed to sterilize your child's bottles so you can trust them.

4 - Microwave Sterilizing:
Although this technique is gaining popularity these days, yet, I have never personally tried it for my newborn - as if warming up food in the microwave wasn't enough convenience! We already have a couple of nice sterilizing techniques and involving the microwave for sterilizing your little one's bottles is not something I went for. There are special microwave steamers available in the market that you can use with your microwave to get the bottles sterilized.
So...
If you are a mother who has decided to take up the bottle, which among the above-mentioned sterilization techniques is the one for you?
Here is a quick review:

Boiling bottles is cost-effective, but it is a somewhat time consuming process.

The electrical sterilizers might be more convenient for many but it may cost you a little more than the rest of the approaches.

Sterilizing tablets and liquids are a good approach, specially when you are travelling.
If you are an avid-microwave user, you can definitely use it for sterilization.

To sterilize your baby bottle, choose the sterilization method that you think will work well for you. You can go for more than one techniques - the classical boiling or mechanical technique and keep a sterilizing liquid/ tablet as a backup at home. If still not sure, use your motherly instincts! They are never wrong, trust me! :)

Return to Formula Feeding section.
Return to Homepage.